They all do pretty much the same, so it depends really on which one you prefer. The subscription services on this website, either offer free trials, or £1.00 trials, allowing you to try them all yourself for less than a fiver, and make up your own mind.
In my opinion, there is no stand out one that you should use. Based on sales through this website (yes, we do get a few quid for sales of subscription services, there is nothing hidden here), Oddsmonkey seems to be the most popular.
As all essentially do the same, it could come down to your finances and what you are prepared to pay. For example, Oddsmonkey, Profit Accumulator, and Matchedbets, all have monthly subscriptions. While Profit Maximiser charges annually.
Profit Maximiser works out cheapest over the 12 months, but you might not want to fork out for a year up front, which makes the monthly options with the other three more attractive. It could even come down to which layout and/or software you prefer.
I think the best advice we can give, is to give them all a try. Two are free, and the other three services cost around one pound each (we make next to nowt for those sales, trust me), so you can try them all out yourself, and even if you cancel all five, you should still make a profit.
Best Matched Betting Sites
Below we have put together a list of all the recommended matched betting sites that do most of the hard work for you. By using one of the following subscription services, you will get full support and effectively have someone holding your hand throughout the whole process of matched betting.
Oddsmonkey
– Oddsmonkey has a free trial where they show you how to cash in free bets that will make you up to £45.00 in risk free profits.
– Once you have done that, you then have the option to carry on, or cancel your order. There are two different payment options, monthly at £17.99, or annually at £150.00.
– Both options come with 30 day money back guarantee.
Profit Accumulator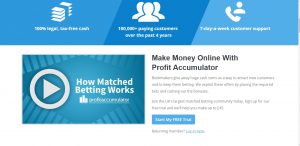 – Profit Accumulator also gives you a free trial showing you how to cash in free bets that will make you up to £45.00 in risk free profits.
– Like above, there are two subscription offers. You can purchase monthly at £17.99, or annually at £150.00.
– Both subscription offers come with a 30 day money back guarantee.
Profit Maximiser
– Profit Maximiser differs from the two above in terms of subscription offers.
– You can try out this service in full for 14 days at just £1.20, followed by the remaining £115.20 for 1 years access, the cheapest 12 month subscription service.
– You can also purchase outright at £116.40 for 12 months, and get their 30 day money back guarantee.
Matchedbets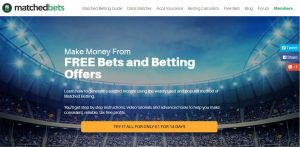 – Arguably the most flexible when it comes to purchasing options.
– A 14 day trial is available for just £1.00, and thereafter you can either purchase monthly at £15.00, or annually at £149.00.
– The guys at matchedbets seem to be taking the best parts of the offers from their 3 main rivals above, and covering all bases to give you better purchasing options.
Bonus Bagging
– The best system if you are nervous about matched betting, or just starting out.
– You can try out Bonus Bagging for just £1.20 for 7 days under the terms of their trial, this will be followed up by a further one off payment of £31.20, which completes the payment in full.
– The service also comes with a massive 60 day money back guarantee.